新金山中文学校校长信箱 (04/08/2023)Xin Jin Shan Chinese Language and Culture School Principal's Message
网上夏令营、寻根之旅和中文学习
各位老师、同学和家长:
大家好!
近日有学生和家长来询问第三学期假期赴中国福建的寻根之旅活动,表明大家对中国侨联举办这项活动有兴趣。由于报名学生多,我们学校和社区合作伙伴澳中青少年交流协会组织了面试并参考学生参加网上夏令营的表现,初步选出首批入选营员名单,其余报名学生候补如有名额会及时与他们联系。
网上夏令营和赴中国寻根之旅活动是由中国侨办主办,各省市侨办承办。海外华裔青少年前往与祖先有联系的地方(祖籍国)学习、旅游,就是"寻根之旅"。中国侨联举办的寻根之旅是帮助我们海外华裔青少年学习中文、了解中国国情和中华文化,主要内容学习汉语、中华文化常识和才艺、武术和民族舞蹈,与中国青少年学生交流、参观历史文化名胜等。因坚持"游教结合、寓教于游",广受华裔青少年的欢迎,成为帮助海外华文教育发展的一个知名品牌。寻根之旅活动因疫情暂停了三年,今年7月起逐步恢复。我校部分学生有幸成为恢复后的第一批营员参加了7月举办的浙江宁波营活动。
网上夏令营是在疫情期间推出的特殊形式的寻根之旅活动,通过听故事、看视频等形式让参加者学习中文和中华文化,在屏幕上浏览各地名胜古迹。由于内容丰富且不受时空限制受到华校学生和家长的欢迎,因此在疫情结束后仍然继续举办。我校学生积极参加网上夏令营活动,至今已有2000多位学生参加。据老师、学生和家长们的反馈,参加网上夏令营提高了学习中文的积极性,也刺激了学生的兴趣爱好和才艺专长的发展。我校因在这几年里积极组织学生参加网上夏令营活动,成绩优秀,获得各级侨联的表扬。
我在这里特别跟大家报告一下:上个星期日下午,浙江宁波营召开了总结会,所有营员和家长参加。会上,营员代表分享了参营收获,家长代表谈了观营感想,领队(我本人)作了总结汇报。中国驻墨尔本总领事馆侨务领事肖莹女士和宋崇生先生应邀出席,两位领事全程认真听取大家对寻根之旅活动的积极反馈意见。肖莹领事被邀请給优秀营员颁发了证书,宋崇生领事被邀请作了即兴讲话。
宋领事祝贺营员们参加寻根之旅满载而归,他说这个团是墨尔本领区批出的第一团,也是国内线下寻根之旅恢复后的第一团,意义非凡。他赞扬学校积极为学生争取参加寻根之旅活动的机会,赞扬家长们有远见支持孩子学习中文赴中国寻根。宋领事很高兴营员学生们被中华文化的独特魅力和现代中国的发展所吸引,有了强烈的华裔身份认同。他希望大家以这次寻根之旅为契机,保持中文学习汲取中华文化的营养,在澳洲弘扬和传播中华文化,丰富澳大利亚的多元文化社会。
我在这里特别感谢中国驻墨尔本总领事馆对我们寻根之旅团队成员的签证申请给予的支持和帮助。感谢同学们参与网上夏令营活动,感谢家长们对活动的支持和关注。
我相信,将来会有更多的学生会有机会参加网上夏令营和寻根之旅活动,丰富华文和中华文化教育,让中华文化的文明之光在澳洲华裔中星火相传。
最后,祝大家健康平安,生活愉快!周末校园见!
胡培康
校长
新金山中文学校是一所教育部认可的旨在保护儿童安全的社区语言学校,如果您对我校的有关儿童安全相关政策有任何疑问或建议,请登陆我校网站 https://xjs.vic.edu.au/child-safety/或致电98881688进行查询,也可发邮件至[email protected]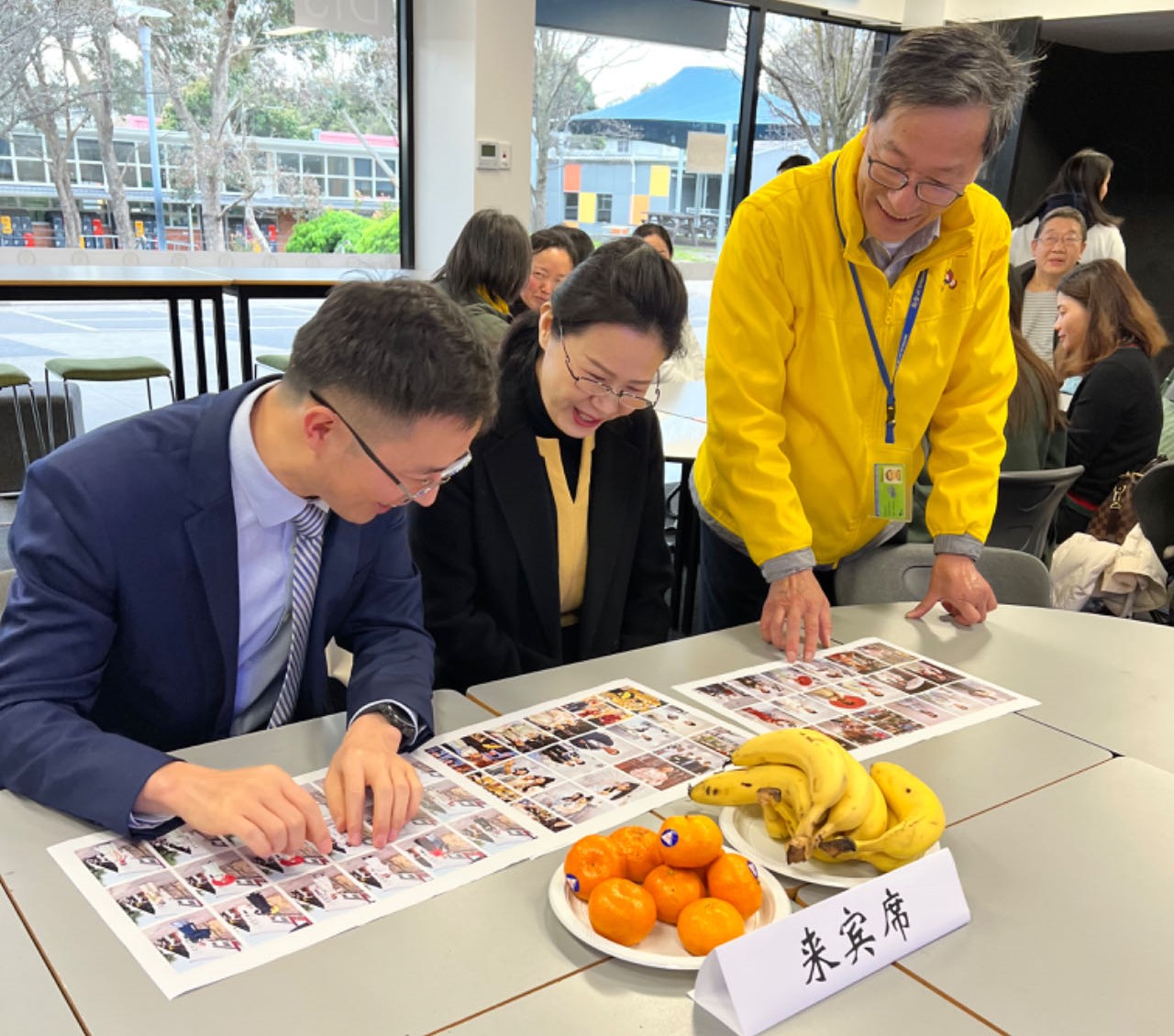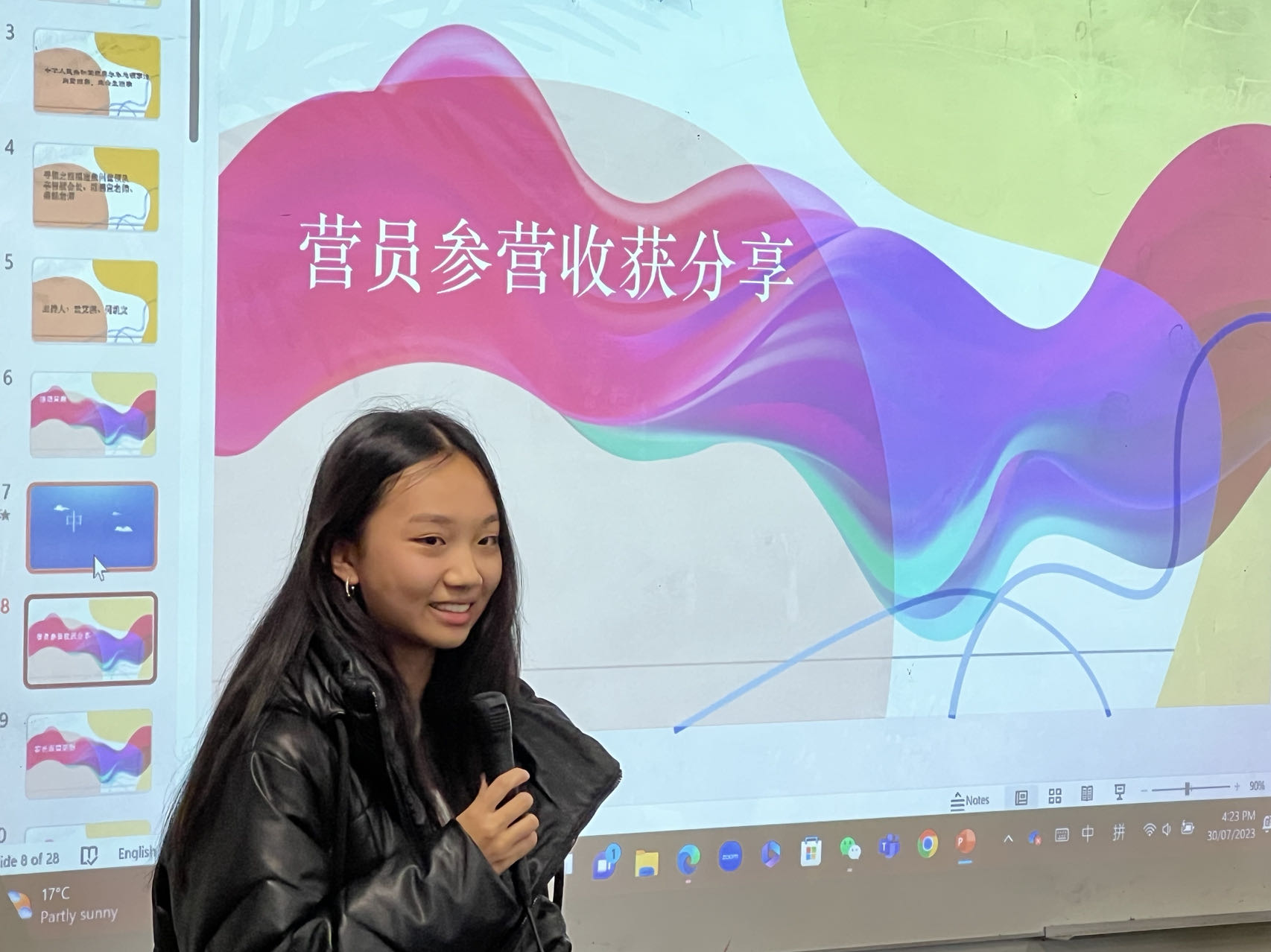 Xin Jin Shan Chinese Language and Culture School
Principal's Message
Dear teachers, students and parents,
Many students and parents have enquired about the Chinese Culture Camp in Fujian during Term 3 break recently. XJS and Australia China Youth Exchange Associations have organised interviews for the registered students and the short list and waiting list are now available. If there are any extra places, we would contact those on the waiting list.
The online and offline Chinese Culture Camps are organised by All-China Federation of Returned Overseas Chinese and arranged by local ACFROC. The Chinese Culture Camp is expected to encourage young people with Chinese culture backgrounds outside China to understand and experience Chinese culture through Chinese language learning, Chinese traditional skills learning, communicating with local young people in China and visiting historical places in China. The program has been largely applauded and appreciated by the youth outside China and has turned into a flagship promoting Chinese language education outside China. The program has been suspended for three years due to Covid and resumed this year. Our students have been luckily selected in July as the first group visiting Ningbo as the part of the program.
The online Chinese Culture Camp has played an important role in the last three years during Covid when students have been given opportunities to learn Chinese language, culture and history through listening to stories and watching videos online. The program with well-designed cultural activities has been much appreciated by the students and parents and it would keep on running as usual. Up to now, over 2000 students have participated in the online Chinese Culture Camp and students have been very active in learning and presenting their talents in the program. XJS has also been acknowledged by ACFROC of various levels in China for actively participating in online Chinese Culture Camp with students' excellent performance.
Last Sunday afternoon, a wrap-up meeting of Chinese Culture Camp – Ningbo Camp was organised and all the participants and their parents attended the meeting. The participants shared their experience and what they have gained through the program, their parents presented their appreciation and I myself as the team leader also made a report about the event. Consuls of Overseas Chinese Affairs from Consulate-General of the People's Republic of China in Melbourne Ms Ying Xiao and Mr Chongsheng Song attended the meeting and provided their positive feedback about the event. Ms Ying Xiao was invited to present certificates to the outstanding participants and Mr Chongsheng Song made a speech on the meeting.
Mr Song congratulated all the participants for their great achievement in the program. The event was very special for Melbourne as this was the first group approved in 2023 by Consulate-General of the People's Republic of China in Melbourne and it was also the first Chinese Culture Camp group visiting China in 2023. He appreciated XJS for encouraging students to attend the event and also acknowledged parents' vision for supporting their children to seek their culture roots in China. Mr Song was pleased to know that the participants have been attracted by the unique beauty of Chinese culture and the development of modern China and gained Chinese ethnic identity. He encouraged students to take this opportunity to keep on learning and promoting Chinese language and culture in the multicultural society of Australia.
I would like to present my sincere appreciation to Consulate-General of the People's Republic of China in Melbourne for their great support in the visa application process for our students. I would also like to thank all the participants for attending the event and their parents for providing great support and attention.
I believe more students would be able to attend the online and offline Chinese Culture Camp in the future enriching Chinese culture education and promoting Chinese language and culture in Australia.
I wish you all the best and see you on campus this weekend.
Yours sincerely,
Kevin Hu, Principal
Xin Jin Shan Chinese Language and Culture School is a DET-accredited Child Safe community language school. If you have any concern and suggestions regarding the school's child safe policy, please feel free to visit  https://xjs.vic.edu.au/child-safety/ or call us at 9888 1688 or email us at [email protected].